Completion Year: 2018
Location: Xi'an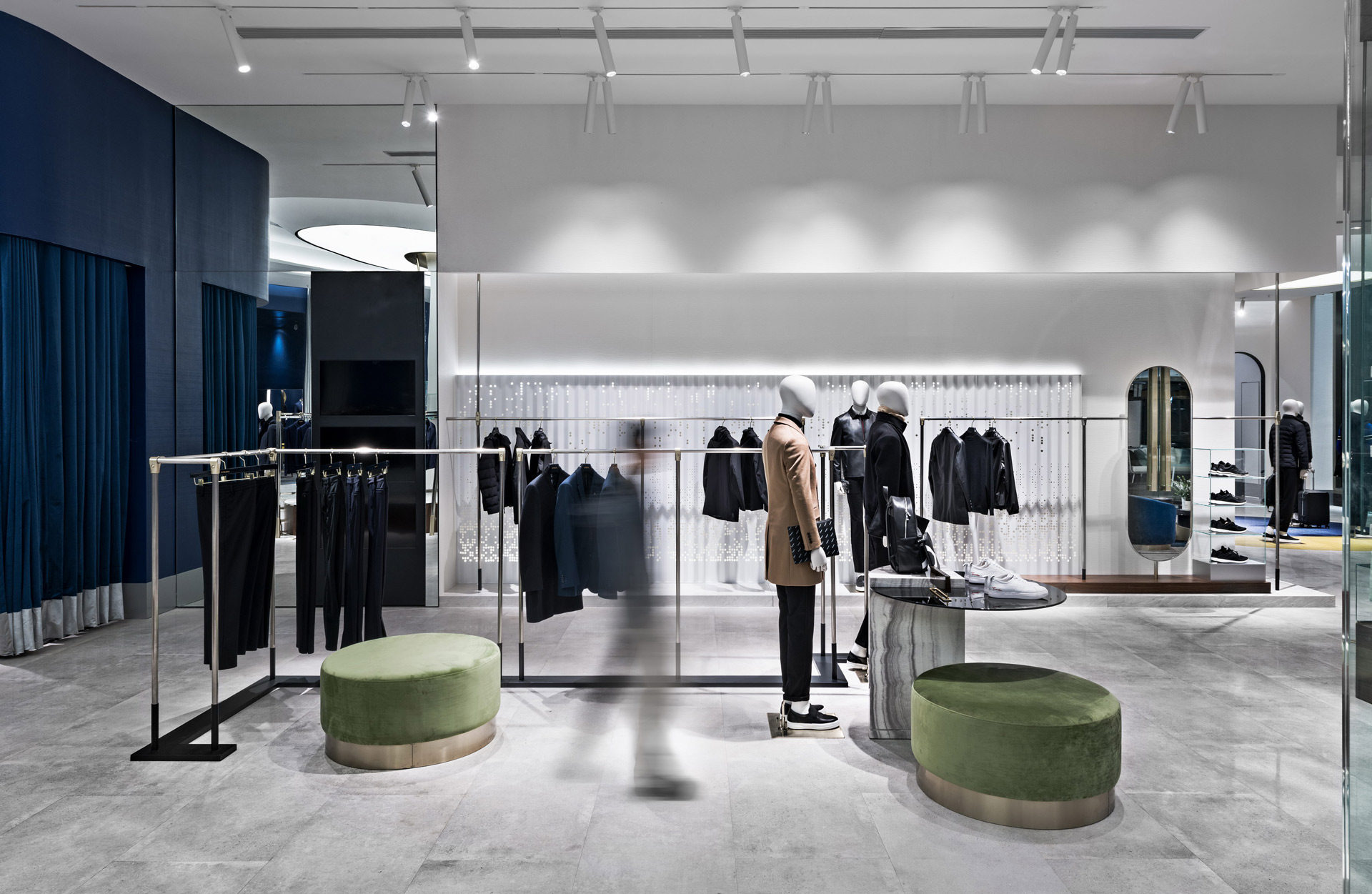 服飾業的新零售模式-時尚穿搭新體驗
The new retail model of apparel industry
這是一個步調快速、生活忙碌的時代,有別於過往消費者在實體店鋪中,透過一次又一次的試穿找到理想衣著,今日有更多消費者在工作之餘,沒有多餘的空閒時間逛商場,一件件地尋找適合自己的衣飾,也沒辦法時時跟緊流行時尚的腳步,這一類的消費者亟需透過新零售機制的協助,透由個人喜好的選定,結合搭配師專業的建議,讓他們也可以享受時尚。在DIKENI,我們就透過專業的導購裝置,協助VIP客戶從基本的身高、體重、身型尺寸統計,到個人喜好風格的蒐集,結合大數據與當季潮流,以數位裝置統合呈現,推薦最合適的穿著方式,讓VIP會員也能享有客製化的穿搭體驗。
As this is a time of fast-paced lifestyle, as opposed to consumers subject to endless yet possibly futile searches for his/her ideal apparel in storefront channels, the need to keep up with the tide of fashion without having spent precious spares time in malls, looking for clothes that suit them, they would surely benefit from the new retail mechanism where they are guided by their personal preferences as well as by professional input of fashion stylists to find their ideal fashion apparels. In DIKENI, we provide much-needed assistance to VIP customers through professional shop-guidance devices from personal statistics of height, weight, body shape, and size to the big data of personal fashion tastes and seasonal fashion trends, in digitally displaying and presenting the most in-style fashion ensemble as our tailor-made fashion ensemble experiences for VIP patrons.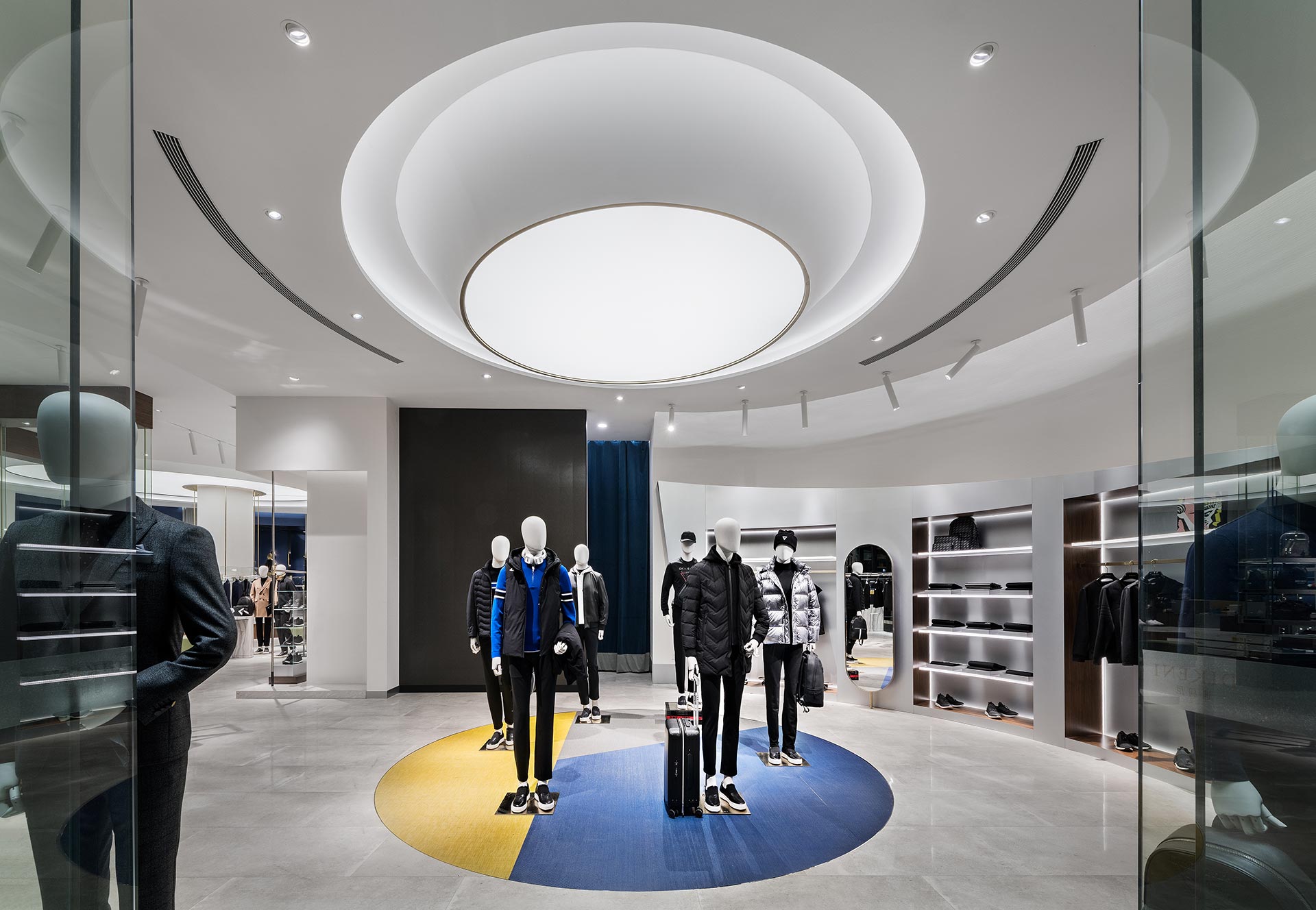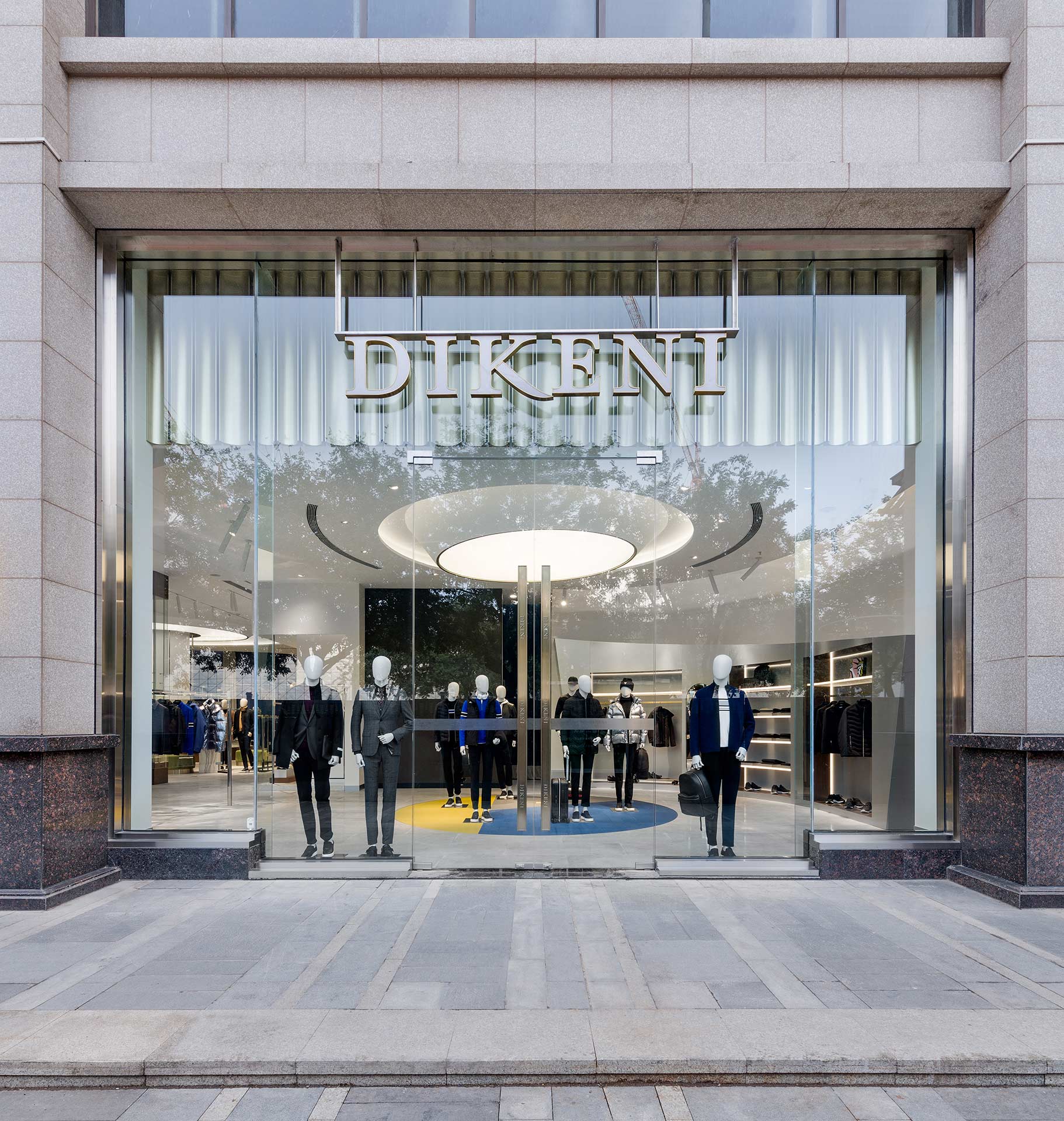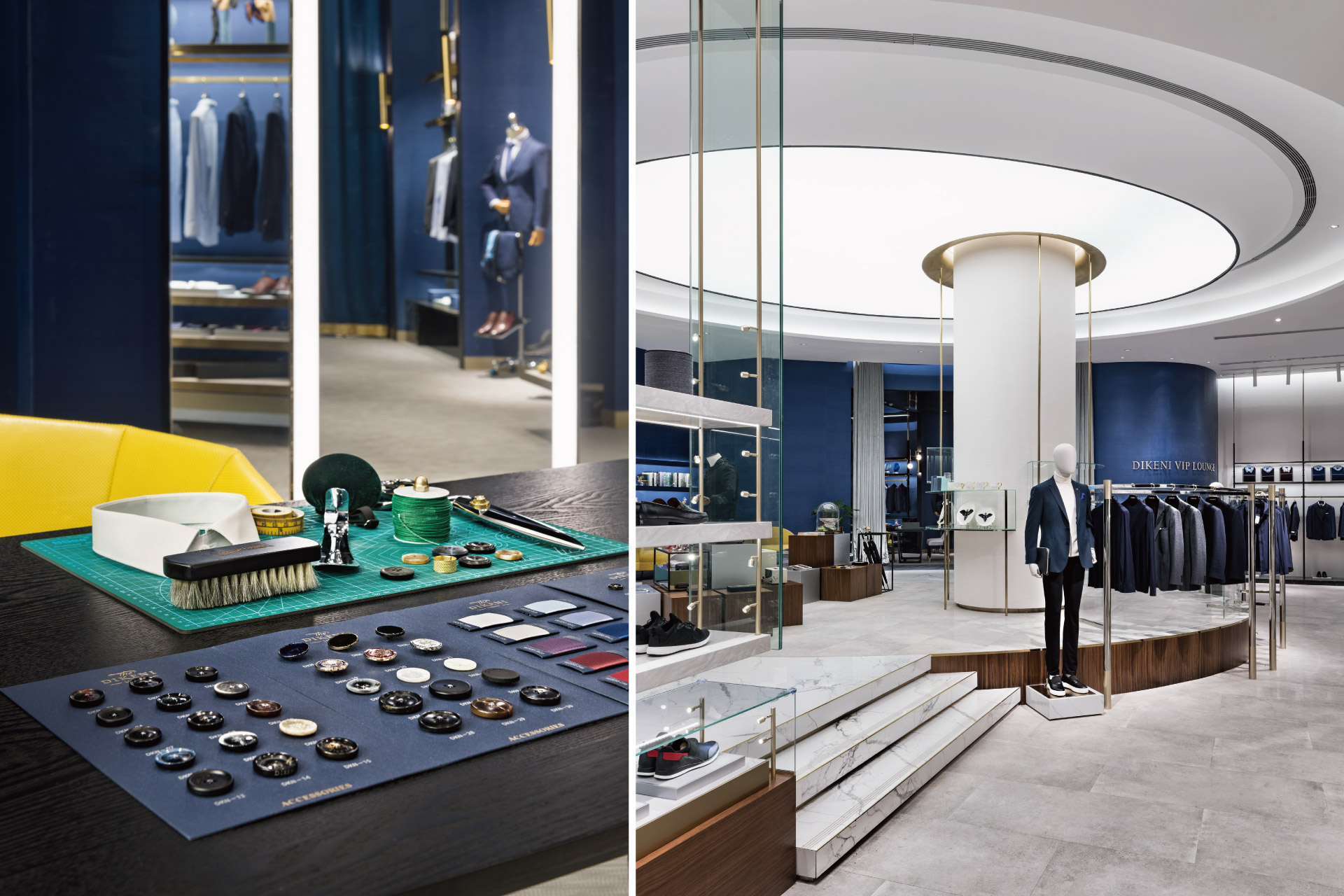 新物種撞擊-DIKENI服飾與Nature家居的跨領域合作
Impact of New species – Cross-Industry Collaboration between DIKENI Apparel and Nature Homeware
除了新零售模式的導入外,面對當代快速流變的商業型態,DIKENI服飾也透過異業結盟的方式與Nature家居合作,希冀透過跨領域的整合碰撞,產生新火花。DIKENI與Nature家居同樣都是以80年代出生的青壯世代為主要消費客群,此一年齡層的消費者做為社會中堅份子,工作忙碌卻期盼能過有品味的生活方式,透過品牌合作,未來在DIKENI門市中,皆會有以Nature家居為主要裝修的區塊,在Nature家居的專店內亦有DIKENI服飾的產品及文化展示,藉此讓新物種在碰撞中油然而生。
Apart from the introduction of a new retail model, in the face of the current fast-paced commercial landscape, DIKENI Apparel has formed a cross-industry collaboration with Nature Homeware, in the hope of generating some sparks, as both DIKENI and Nature Homeware has the young generation born in the '80s, the youthful core in the society who are hard-working yet with tasteful lifestyle, as the main consumer target, so through this collaboration, there shall be retail block with Nature Homeware theme in DIKENI stores, and DIKENI merchandise display in Nature Homeware store.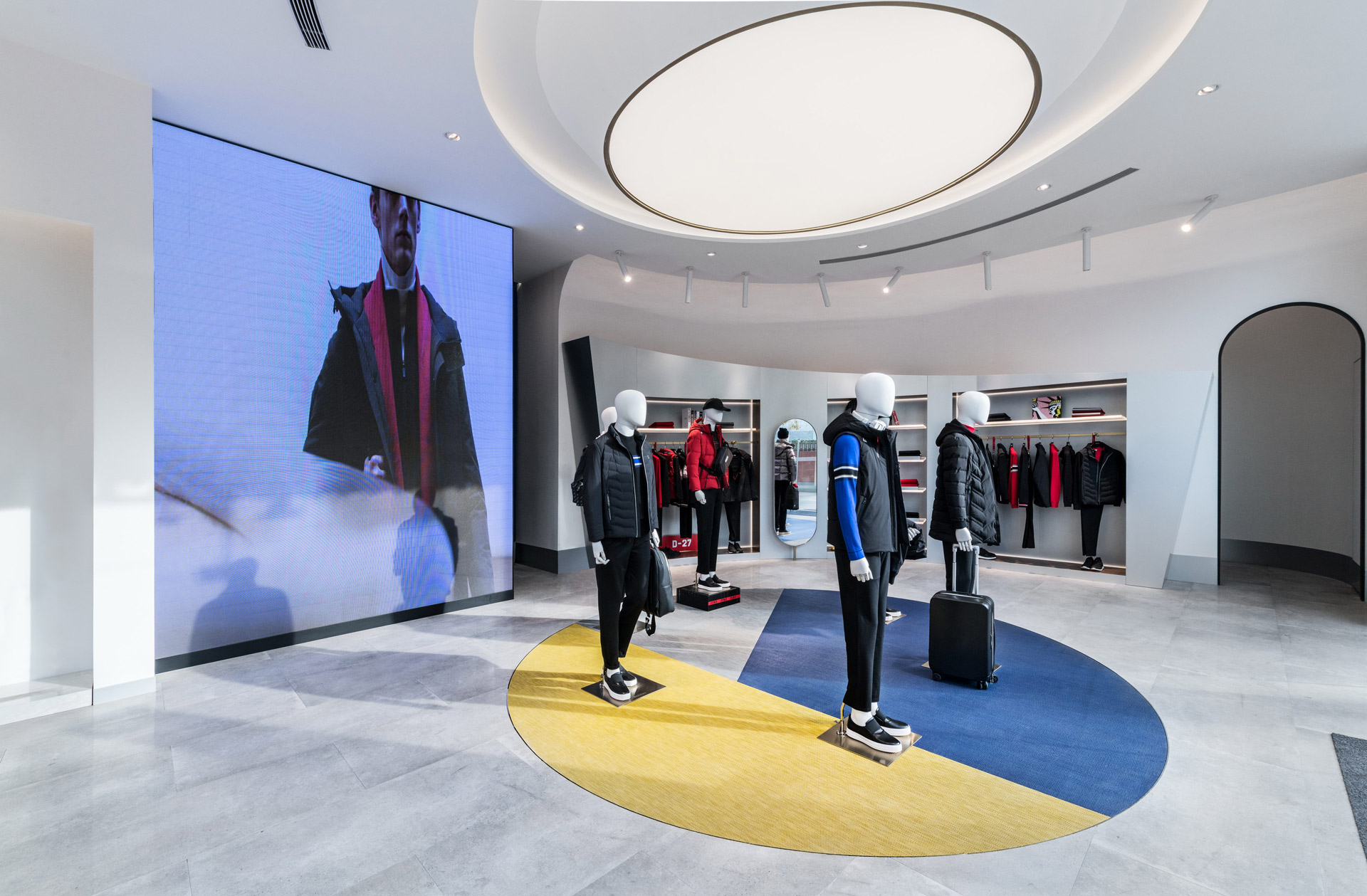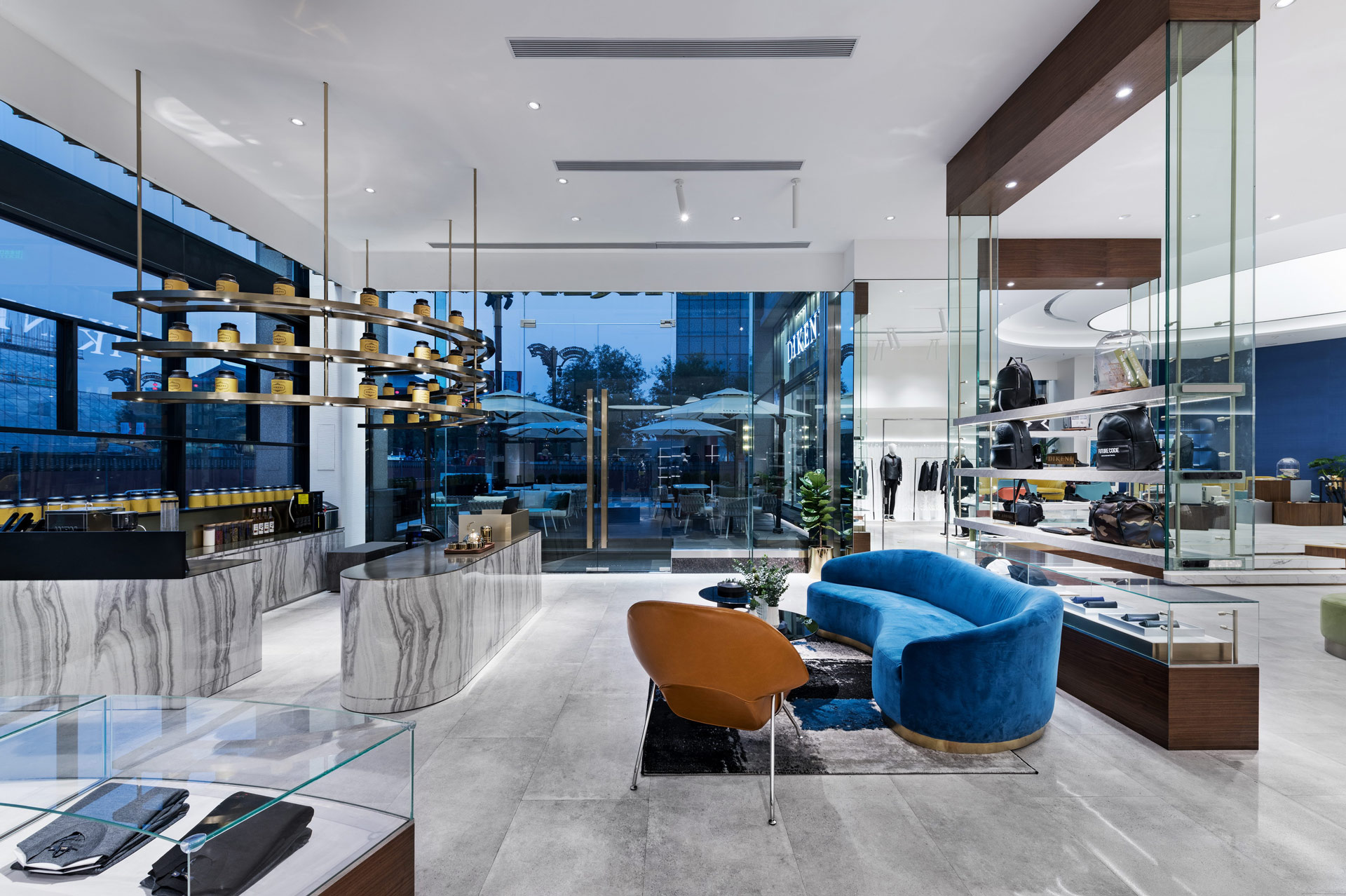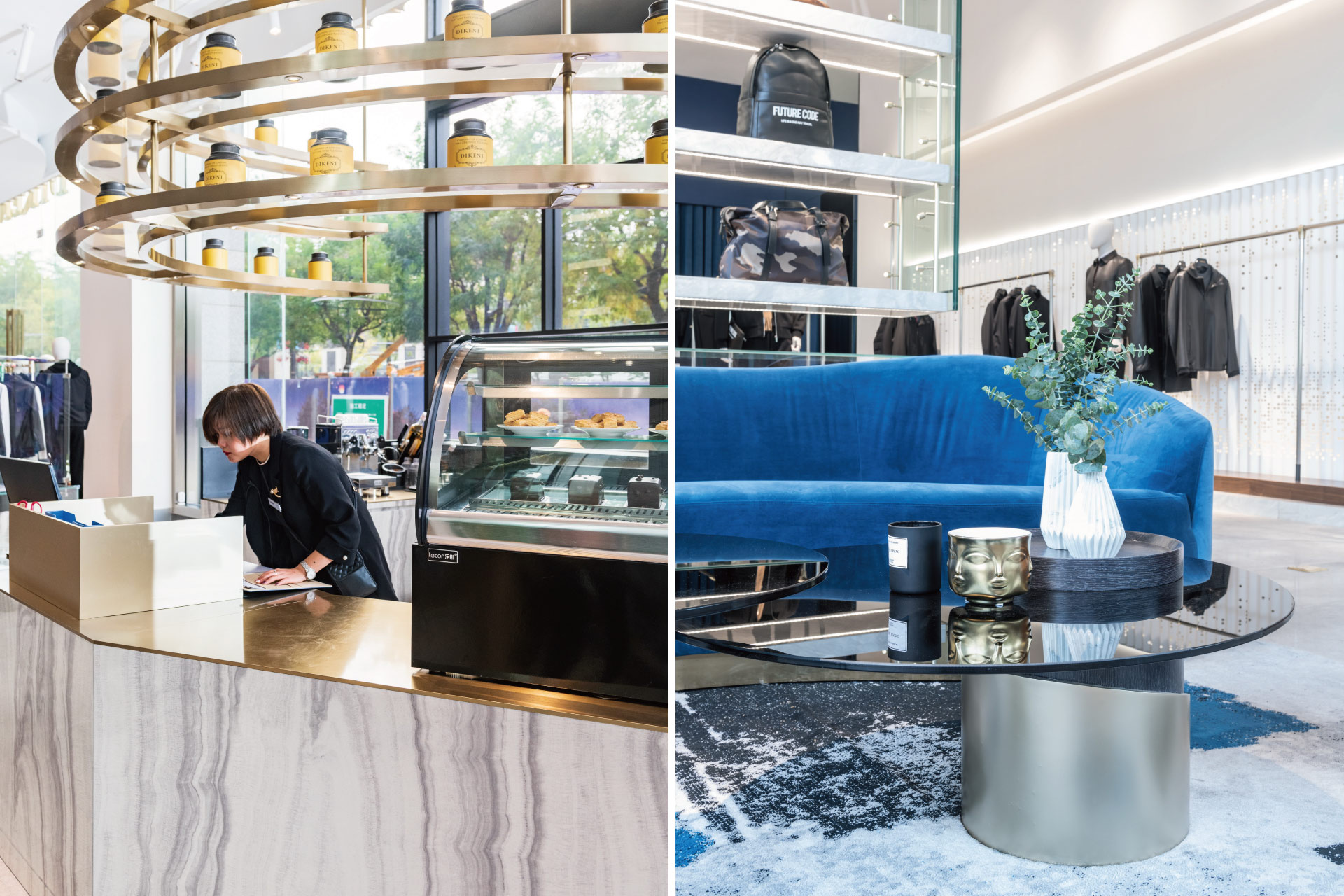 空間體驗-以服飾為核心的生活解決方案
Spatial Experiences – Apparel-Driven Life Solution
本案是DIKENI服飾位於西安不夜城的旗艦門市,是位於角間擁有戶外區域的精華街邊店面,在空間設計與配置上,除了一般既有的展售空間之外,更融入了連接室內與室外的獨立咖啡區,其立面可開可闔,玻璃拉門的設計,創造出內外空間的雙向對話。設計上除了運用上述的Nature家居之外,也結合DIKENI的CI色-藍色為元素,強調藝術軟裝,並在空間中央設置走秀區及VIP客戶專屬穿搭服務與休憩區,也針對服裝以外的穿搭不分-包括錢包、領帶、鞋款、包款與手錶…等各式穿著配件獨立為一個展售區塊。DIKENI西安門市不僅只是傳遞一種單一商品的銷售,而是一個與衣著有關的生活解決方案,配合穿搭、時尚有關的生活方式,以設計滿足當代消費者的嶄新需求。
This project is the flagship store of DIKENI Apparel in Xian's All-Night Store, a prime corner location, so in terms of spatial design and layout, apart from the normal existing retail display area, it features an independent Café section connecting the interior with the exterior, with flexible glass sliding door design facilitating two-way dialogue. So, apart from the NATURE above Homeware design, there was also a blue color which is the DIKENI Corporate Identity color, with emphasis on artistic decorations, a central fashion runway, a VIP Customer Styling section, and a rest area, along with a display area of individual accessories segments for wallets, ties, shoes, purses, and watches, etc. Therefore, DIKENI Xian Store is not just a point of sale but a platform featuring apparel-related solutions that informs its patrons on styling and fashion trends, as well as designs that fulfill the brand-new needs of contemporary consumers.