Completion Year: 2020
Location: Guangzhou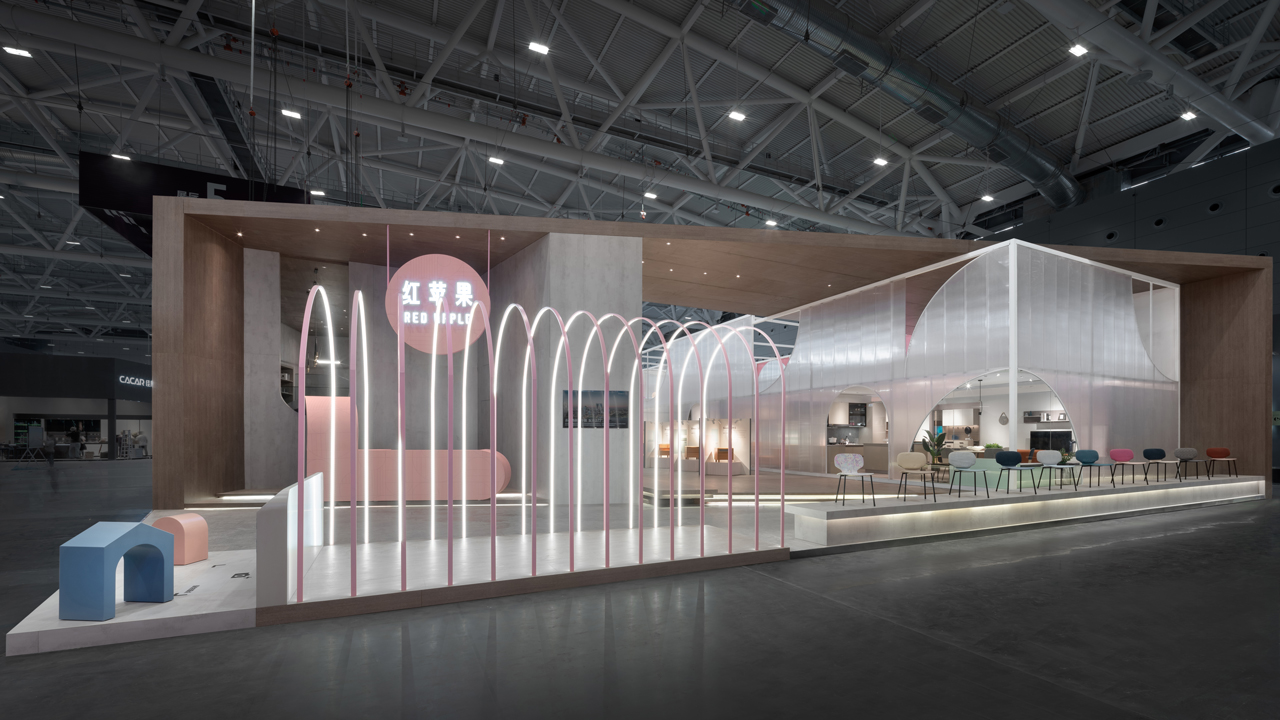 舉重若輕-板式家具新詮釋

Lift weights if light: A new interpretation of wood-based panels furniture
紅蘋果家具創立於1981年、主打高檔板式家具、沙發、床墊、床品及定製家具,是一間集結研發、生產、營銷、服務於一體的傳統香港品牌。所謂板式家具,是以系統板為素材製作而成的桌面、座椅、壁櫃…等家具物件。在三十多年的努力下,紅蘋果家具以高品質、具設計感與強調環保的商品,成功在中國大陸市場開創擴張,並獲得廣大消費者的認同。面對科技時代的全新挑戰,品牌從「舉重若輕」的概念中獲得啟發,以輕量化的減法設計回應品牌精神與概念。針對當代的新生活方式重新布局產品系統,以創新思維設計全新產品,希冀透過兼具質感、工藝詮釋、年輕化的物件商品,顛覆傳統板式家具市場的模式型態,帶領傳統品牌華麗轉身。
Red Apple Furniture is a traditional Hong Kong manufacturer founded in 1981, which integrated R&D, manufacturing, marketing, and servicing. They specialize in high-end mattresses, bedding, sofas, customized furniture, and especially the "wood-based panels furniture" that are tables, seats, cabinets, and furniture made of systematic woody panels. With devoted more than 30 years, Red Apple Furniture has successfully expanded their business among the Chinese market with high quality, well-designed, and environmentally friendly products, gaining consumer's appreciation.
The concept of "lifting weights inspires the brand if light" to respond to its mission statement through the lightweight and subtractive design, rising to challenge. With innovative thinking and product line-up matching contemporary life, they aspire to subvert the market and their branding image with high-quality furniture of aesthetics and a sense of modern.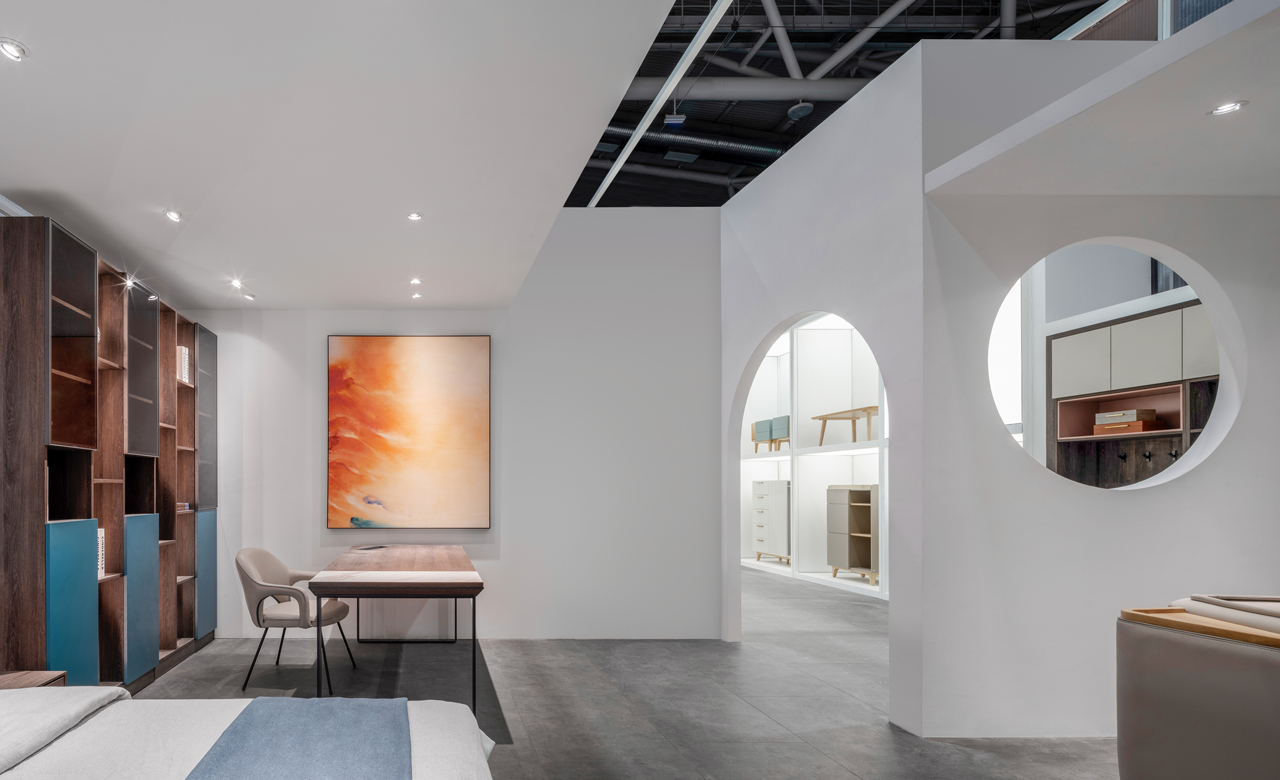 展示交流-開放樣板房與錯層平台的組構

Interactive showcase: The form of open-access showrooms and staggered platforms
為了強化紅蘋果家具革新業界的企圖,本次深圳展會特別藉由展廳規劃設計,回應品牌與時俱進、重視設計感與年輕化的訴求。在略呈矩形的展區平面中,團隊特別將整體空間區分為兩大區塊。展廳空間外圍為一個個獨立的展示規劃區,並以動線彼此串聯,藉由開放式的樣板房細緻地展出品牌當季商品。在場域核心部分則規劃為公共活動與洽談區,以一個抬高的開放式平台將相關機能廣納其中,再以均質錯落的樓梯平台,建構猶如戶外階梯劇場般的地景效果。該場域內舉辦、分享各類課程與講座,並開設工作坊,以豐富而多元的活動增進參訪者間的互動。
To strengthen Red Apple Furniture's attempt to revolutionize the industry, this exhibition booth in SCW 2019 was designed to present its upgrading ambition. As a result, the rough rectangular area was divided into inner and outer sections for different purposes. The outer ring was a combination of individual display rooms, which are connected by corridors. Here, the latest seasonal products are presented through open-access showrooms.
On the other hand, the central part was planned as a public space and meeting area, with a raised platform for various functionalities and the average-elevated wide stairs to form an amphitheater-like landscape. This exhibition organized a variety of courses, seminars, and workshops to enhance interaction among visitors.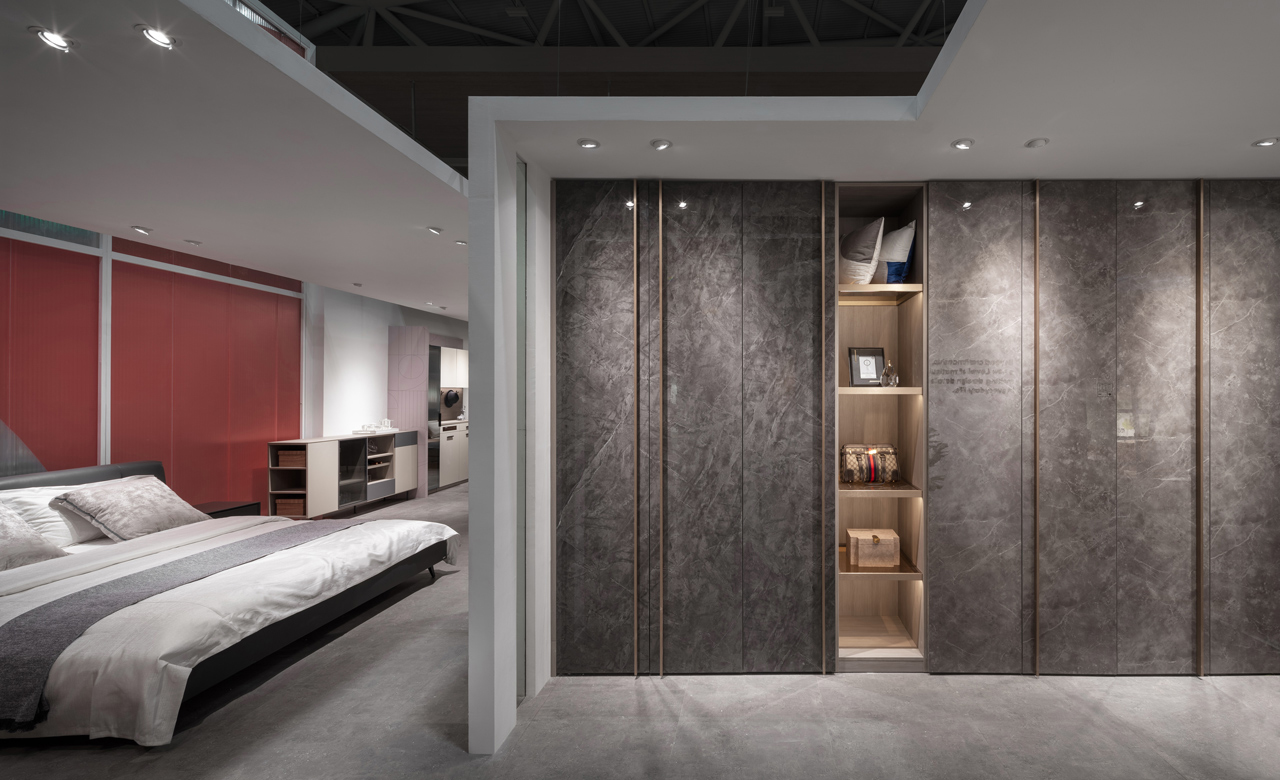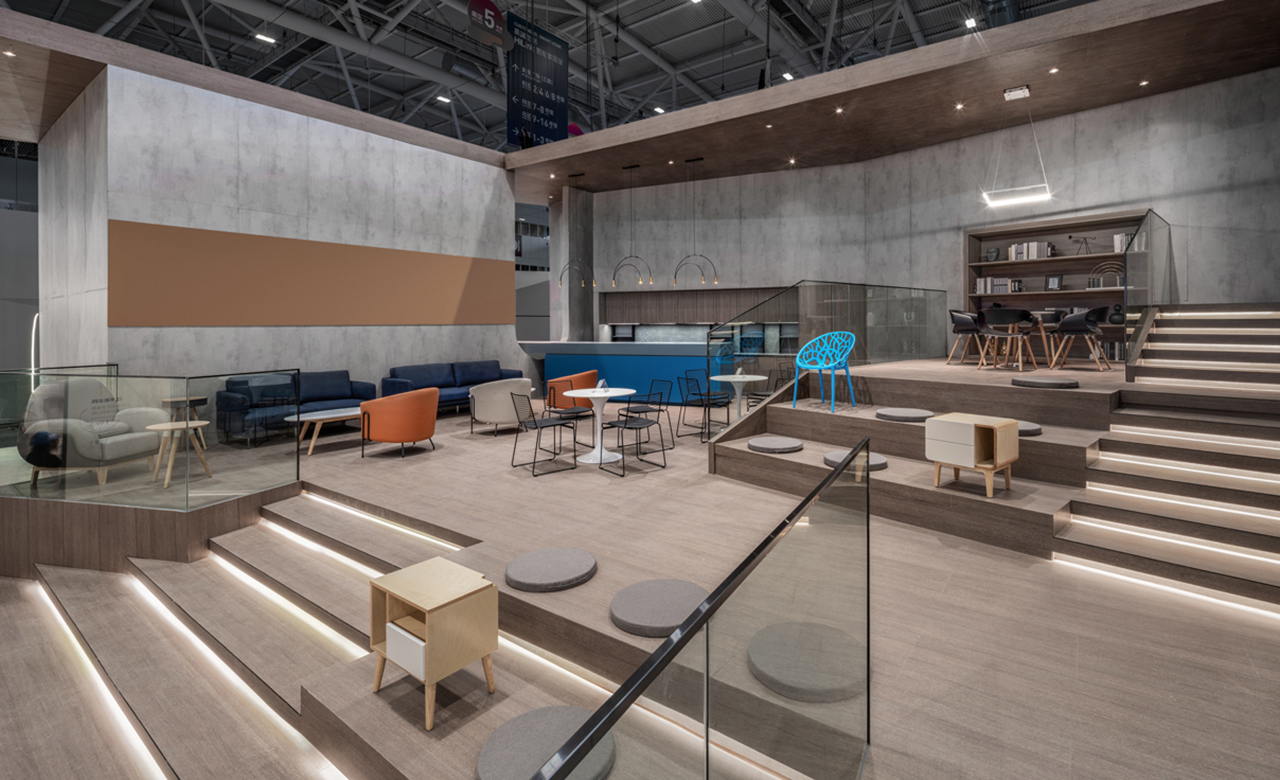 永續精神-以輕質可替換材料搭接的再利用設計

In pursuit of sustainability: The re-utilization of reusable lightweight materials
受限於展會本身時效、佈展期短的特性,展場設計實際落地時多半以臨時性的材料及結構進行搭建,力求在最短時間內完成空間布置。考量此一需求,團隊在設計之初便特別挑選相對輕質的金屬框架系統作為結構體,並以可回收的半透明霧面陽光板作為表面材料,此種陽光板除了質地輕盈外,也讓室內呈現更具神秘感的模糊性氛圍。由於這些結構物件具有材料輕質、便於替換、易拆卸搬運等特質,故在展期結束後,相關構築物也將拆解重組、轉移至品牌終端店持續展示,透過具體行動體現紅蘋果家具對永續生活的追求與重視,作為回應當代主張輕質感生活的回饋。
Due to the exhibition's short timeliness, most of the booths are built with temporary materials and structures to shorten the construction process. Considering of this demand, the team chose relatively lightweight metal frames as the structure and recyclable polycarbonate translucent panels as the facade, giving the interior a mysterious yet ambiguous atmosphere.
While these structural objects having the characteristics of lightweight, transportable, and easy-to- install, they were disassembled and applied in the retail store for re-utilization after the exhibition. Throughout concrete actions, Red Apple Furniture had reflected their pursuit and emphasis on sustainable lifestyle, as a solid response to the contemporary demand of light life.