Completion Year: 2020
Location: Guangzhou

三維家-數位時代的一站式家居平台

3vjia –A one-stop home platform for the digital age
三維家標榜「一站式服務」的建材家居平台,透過雲計算、大數據與AI人工智能等高科技技術,結合網際網路使用與模擬體驗,在互聯網時代建立起全新的導購消費模式。透過特有的線上平台,三維家將消費者與專業家居物件廠家連結起來,從確立需求、風格喜好、物件選配、空間模擬到下單採購、製造安裝(安裝軟體),都能在導購人員協助下於平台上完成,讓數位化的一站式服務具體滿足科技時代的消費者。
在產品面,品牌將住宅空間區分為八類模塊系統,包括頂牆設計、鋁合金門窗、水電設計、鋪磚設計、塗料設計、櫃體設計、衛浴設計、整木設計,藉由這樣明確的商品區分與一站式流程建構,為當代的建材家居產業建立起新的標竿。而在展會中,設計團隊藉由藝術策展的形式,將八大模塊形塑八個藝術櫥窗,讓參訪者能透過流暢的空間設計體驗特有的一站式服務,感受線上與線下的交織互動。
It is a whole new purchasing experience developed in the thriving network time through high technology such as Cloud Computing, Big Data, and Artificial Intelligence to build up internet usage and virtual experiences for customers. With the unique online platform, 3vjia could easily connect consumers and professional home-object vendors and practice its "One-Stop Service" from needs confirmations, style preferences, item selections, spatial simulation, installing software and home decoration, and order placement product installments. The consumer could quickly go through purchasing processes on the platform with the seller's guidance.
In product service, 3vjia aims to divide residential space into eight modular systems, including a top wall, aluminum alloy doors and windows, hydroelectric, brick paving, painting, cabinet, sanitary, and wood custom home design. The precise categorization and one-stop procedure set up a new benchmark for the modern home materials industry. Our team designed eight separate systems as eight individual art windows in the exhibit space. Visitors could go through a smooth spatial experience with "One-Stop Service," which emerged in both online and offline purchasing contexts.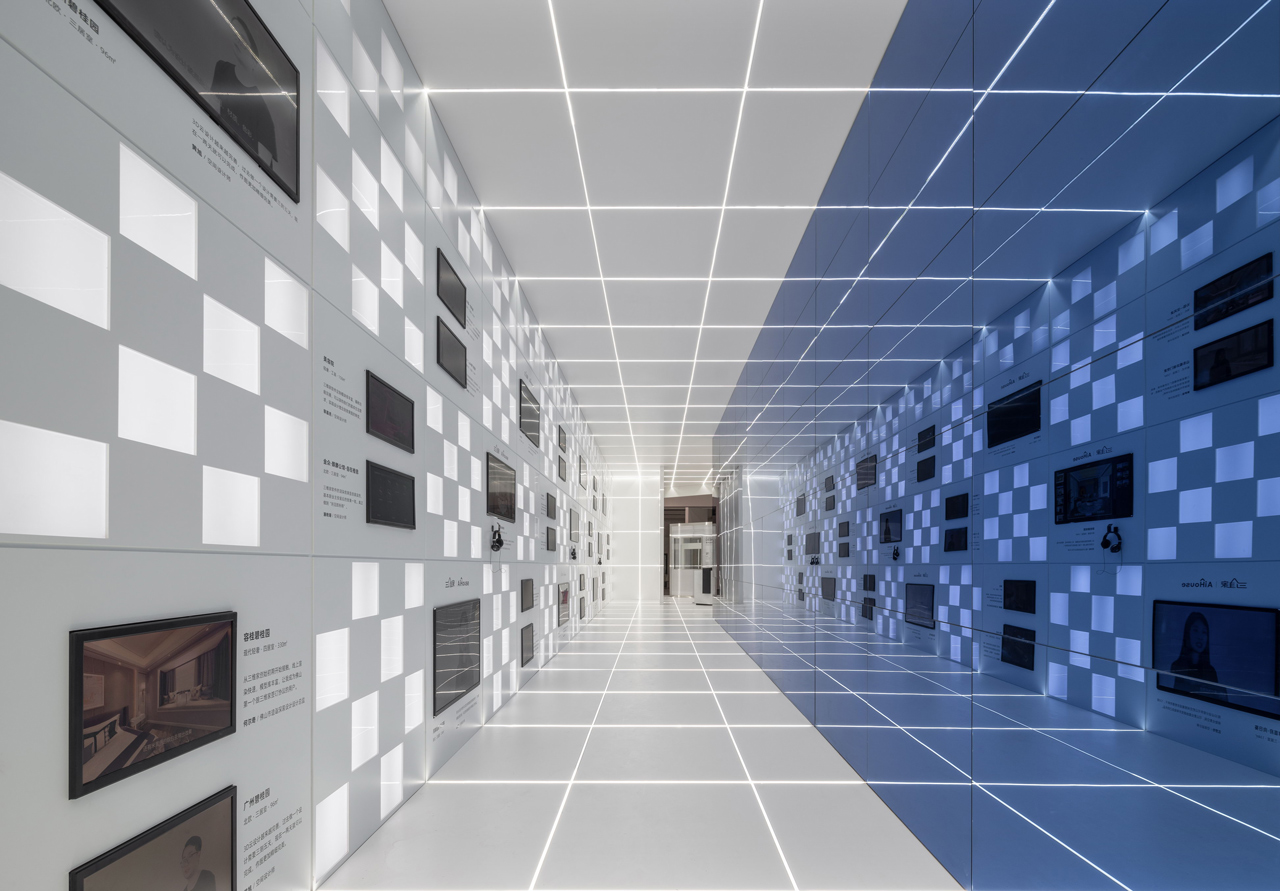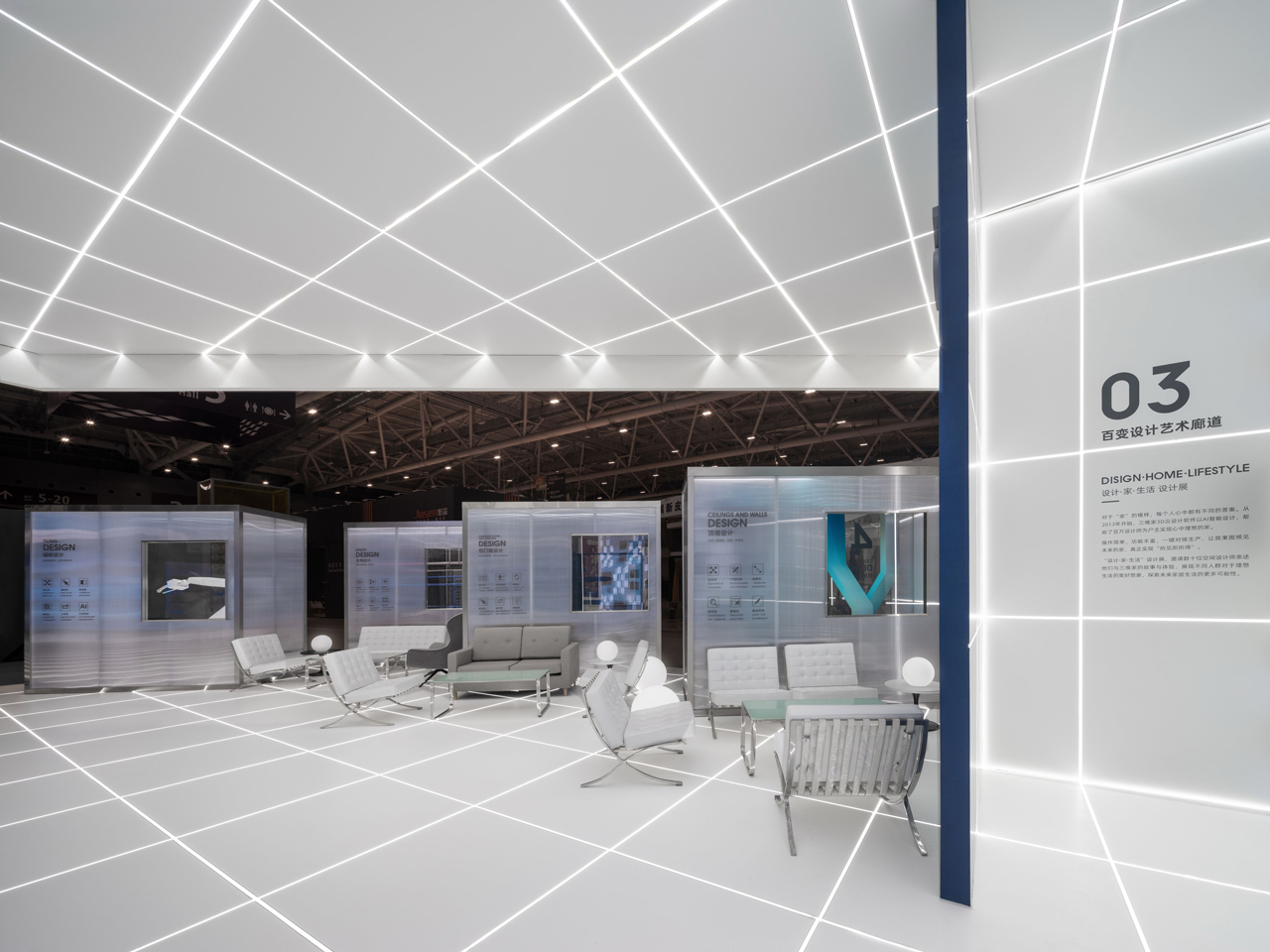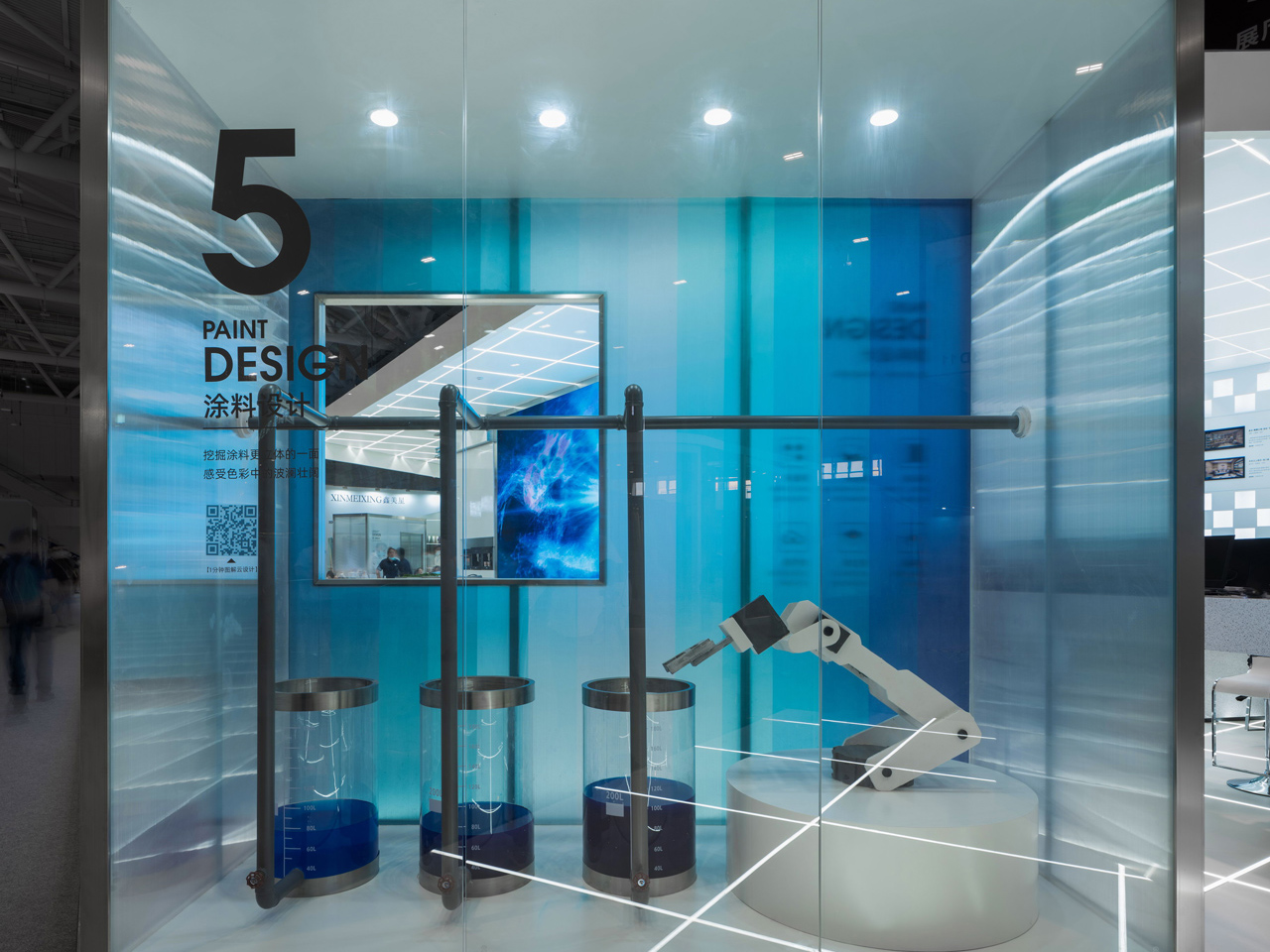 情境體驗-環繞式動線規劃的互動展區

Scenario Experience – A interactive exhibit space with surrounded circulation
作為一家標榜以科技軟體為自身優勢,面向家居產業與消費者的企業,本次展會團隊藉由導入大量數位科技手段,凸顯強調數位體驗的品牌價值形象。
整體空間架構以開放式設計規劃,著重使用者的空間情境體驗,展場內部以環狀布局約略劃分成五大區塊,有作為展廳第一站,提供櫃檯諮詢服務的「未來虛擬三維入口」,提供洽談、體驗與展示服務的「未來三維洽談區」,作為過往設計師作品與品牌發展記錄的「百變設計藝術廊道」,提供消費者線上平台選件、場景模擬的「科技軟體互動區」,以及用於展示生產流程與數據的「數位工廠」。
展廳正中央則植入提供課程、講座教學用的區塊,透過舉辦工作坊的分享形式,讓參觀者與消費者能熟悉、理解這種一站式數位系統的便利性與未來發展前景。在體驗與學習兩大核心理念下,藉由交流、分享、教育等開放式行為的場域規劃,強化參訪者對不同區塊空間的情境感受。
3vjia, as an enterprise, advertised software technology for their advantage, for the domestic industry and consumer businesses. The design team highlights 3vjia's brand value: digital experiences by using a lot of digital approaches. This exhibition is designed as an opening plan and focuses on user scenarios.
The inside part of the exhibit space was split into five main blocks. The first counter, called" Future Virtual 3vjia Entrance," offers basic information. The second stop, named "Future 3vjia Meeting Area," provides services of discussions, experiences, and displays." Variant Design Corridor" is the third stop to present brand-developing records and previous designers' works. Then, the "Technology Software Interaction Area" lets purchasers select products via an online platform and experience spatial simulation. Finally, visitors will reach "Digital Factory," which displays the product-making procedures and data.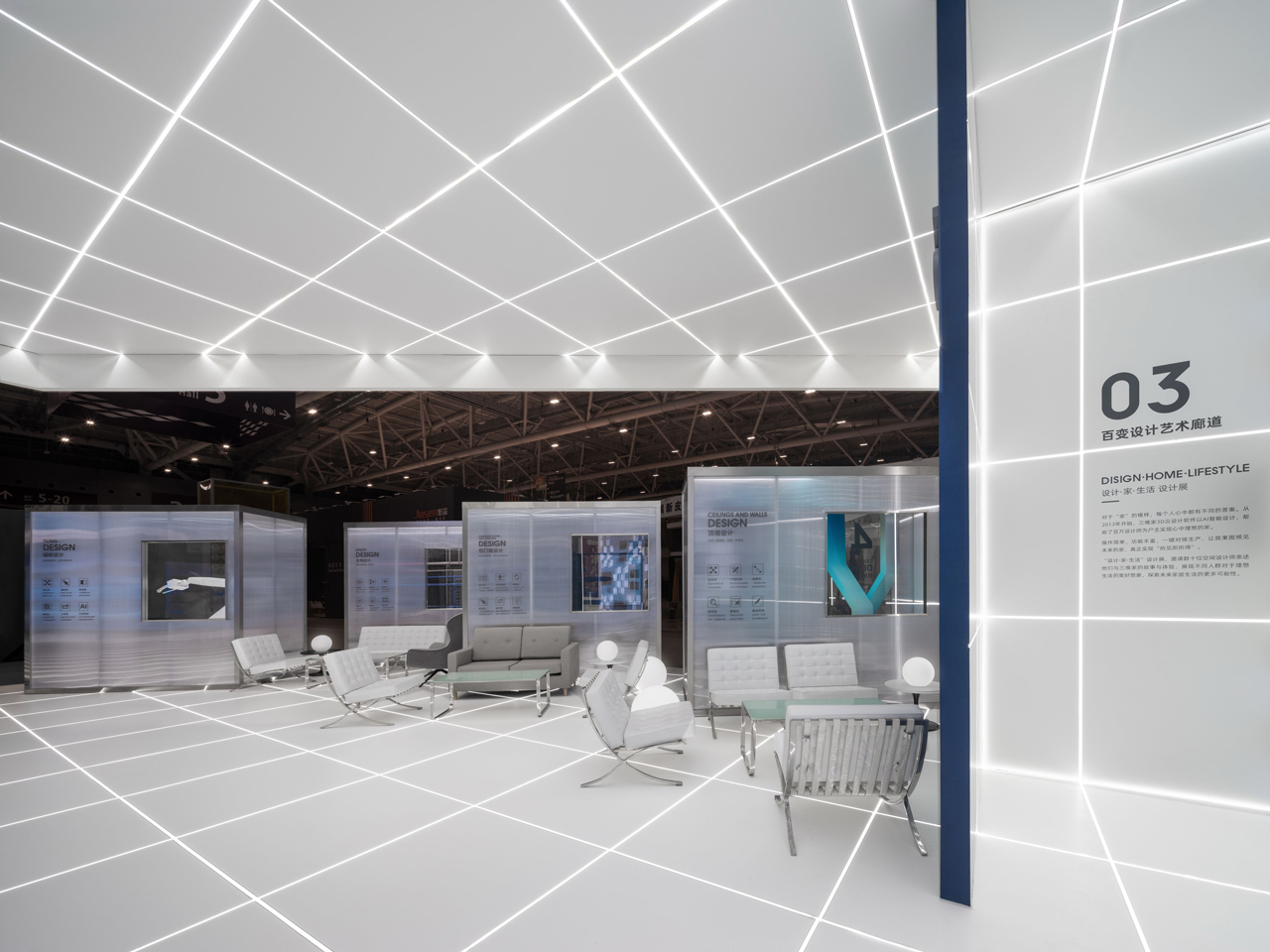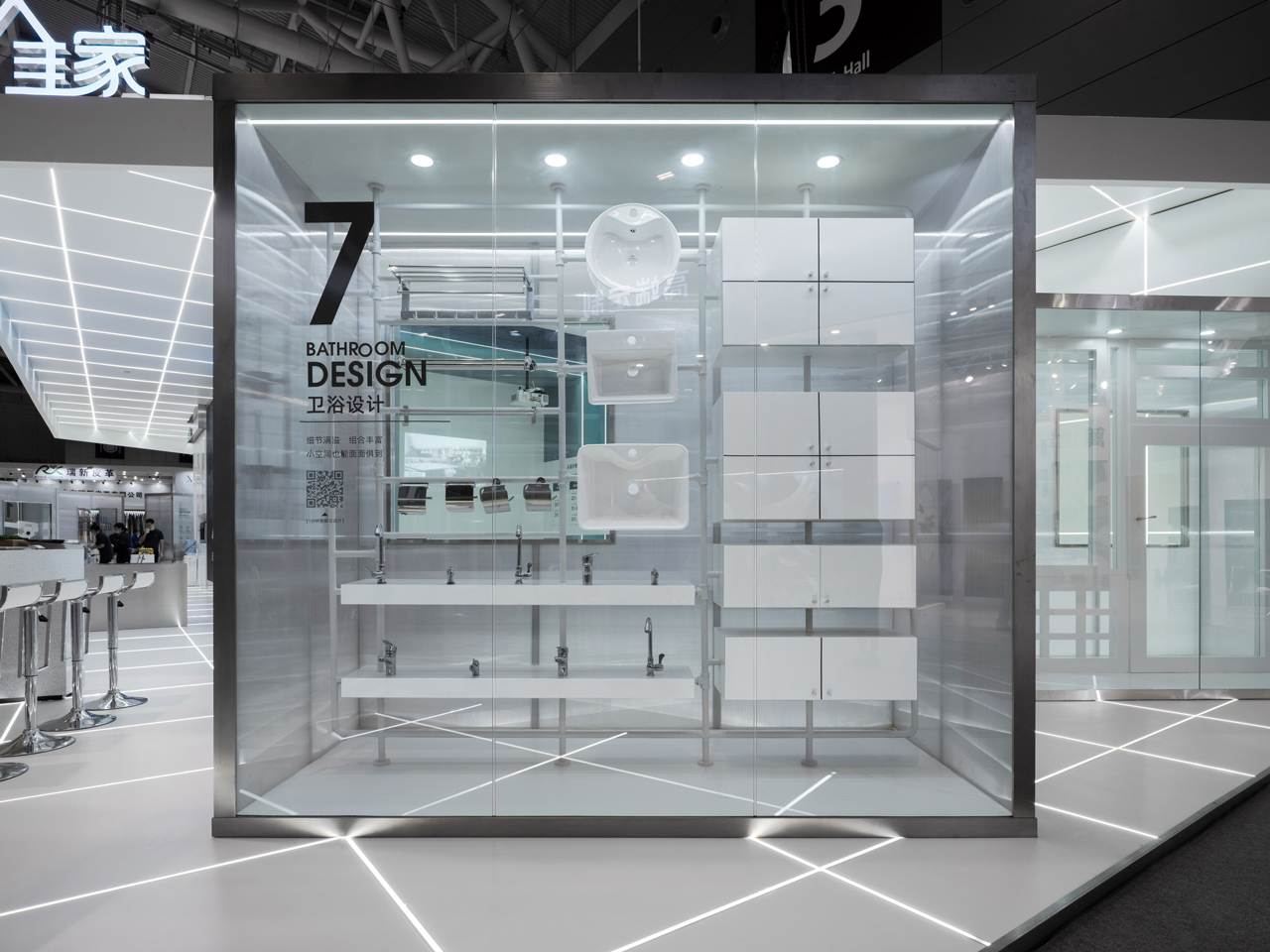 數位思維-虛擬與實境交錯的智能設計

Digital Thinking – An Intelligent design with interweaving virtual reality
為了在展場空間中營造出數位與科技感,讓品牌特質與企業形象能和展示區域建構連結,並將這樣的印象強化予參訪者,團隊在整體設計上大量啟用科技時代的產物為概念深化,諸如入口處的航空站意象、設計廊道的電腦打洞卡與編碼屏幕…等科幻形象轉譯。
在軟體層面,展區以具未來速度感的簡約俐落造型,結合硬體層面透過虛擬實境(VR)、人機互動(HCI)等數位媒材設備技術,讓參訪者能由實境走入虛擬,再由虛擬走入實境,並以線上導購系統的體驗,整合、強化此一氛圍感受,進而建立空間的整體風格調性,重新定義三維家的全新品牌形象。
To create a digital and technological atmosphere and strengthen visitors' impression of the brand in the exhibition space, the design team reinforced the connection between brand identities and corporate images. For example, they reinterpret science fiction such as the entrance with the notion of a spaceship; they also apply computing punctuations and digital coding screens on the design corridor.
The software part is formed by minimal with speedy futuristic style and combining the hardware such as VR, HCI…, and other digital media equipment technology. The design team integrated the online guide-purchases system to strengthen the overall atmosphere and made the visitors walk from reality to virtuality and from virtuality to reality. It redefined the brand image of 3vjia.