Completion Year: 2016
Status: Built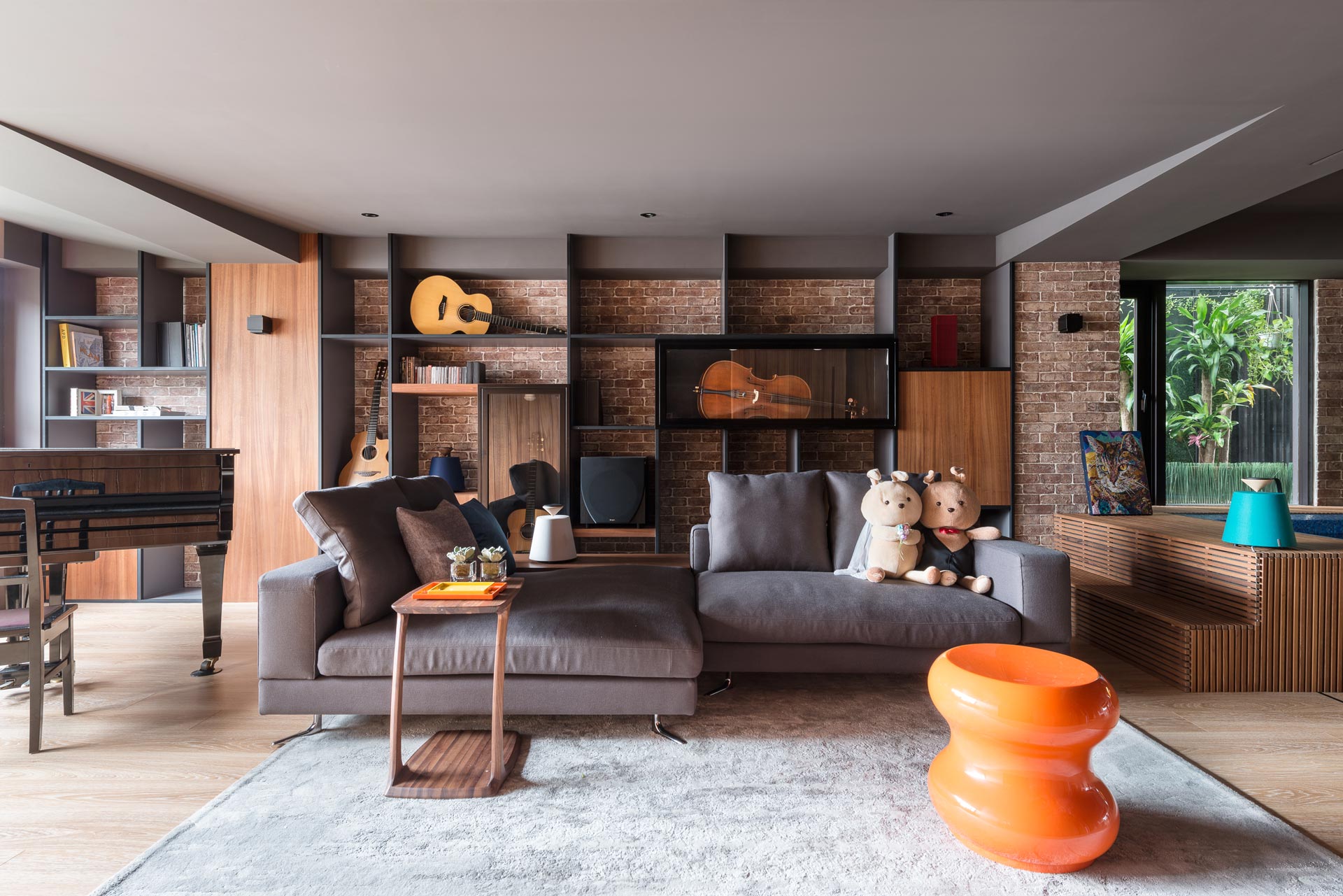 交融-住辦合一的複合運用

Integrating-the combined use of resident and office
在大台北都會核心區北側,素以享有高度生活品質、便捷機能聞名的近郊高層公寓住宅,一戶簡約大宅低調地隱身其中。以狹長形呈現的室內平面,順應年輕屋主夫婦的生活形態與特殊需求,由其男主人是在家工作的金融操盤手,因而我們巧妙地將服務性的機能空間收攏於近入口處的長向一側,其餘主要生活與工作場域,則散置於一個全然敞開的大型區域內,並透過可開闔移動的牆面與隔屏,形成可隨不同時間、氛圍與使用需求,轉換不同組構空間關係的室內樣態。
In the core area north of Taipei City, well-known for the high-rise apartment housing with the high qualitative living and convenient functions, one simple and low profile house is stealth one of them invisibly. By a narrow shaped interior plan, corresponds to the life form and special needs of the young owner couple. The male master who is financial trader working at home, thus we cleverly gather the functional service spaces to the long side near the entrance, rest of living and working fields scattering to a completely open large area. Through open-closed movable wall surfaces and screens, form a group of different structures of spatial patterns according to different time, atmosphere and using needs.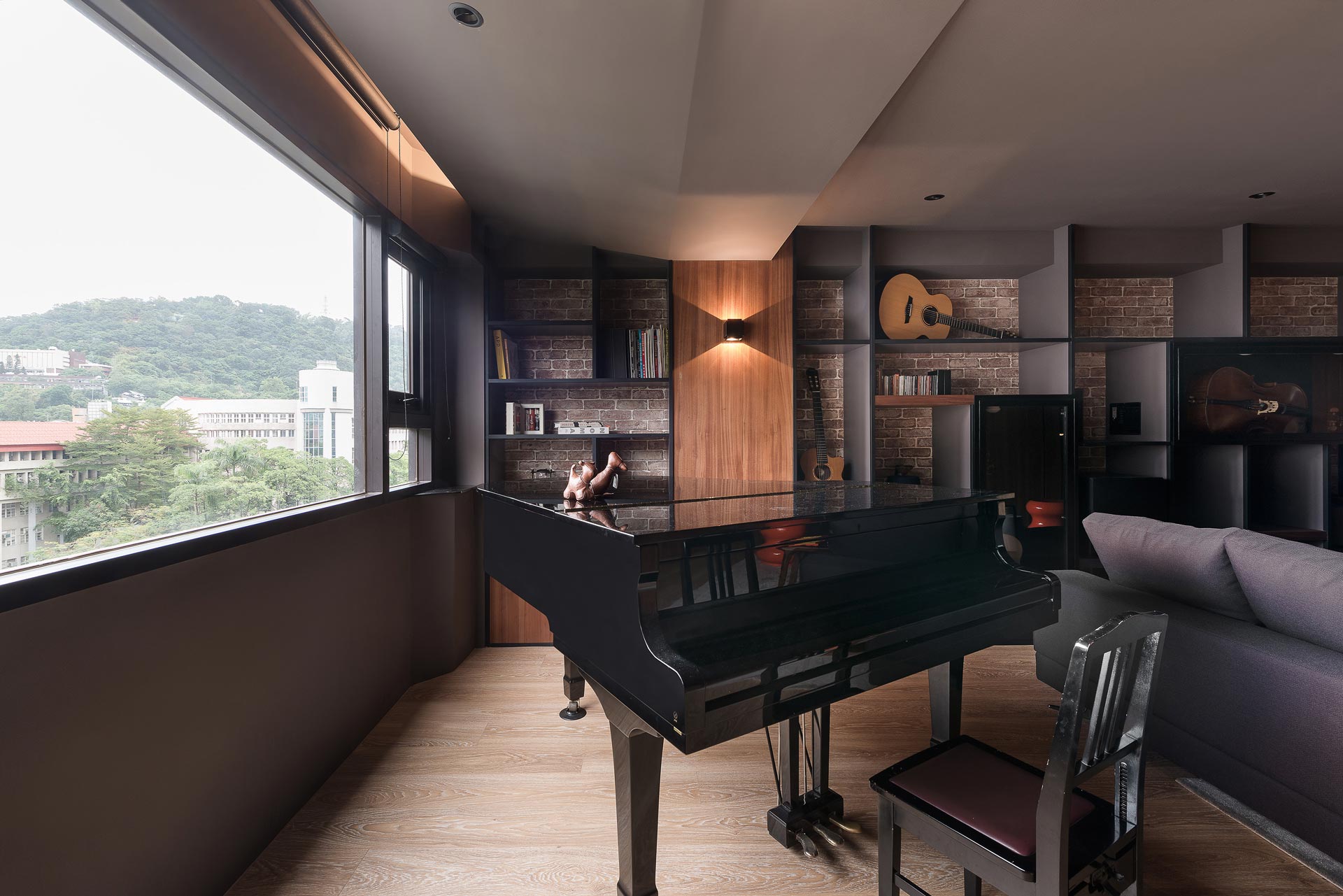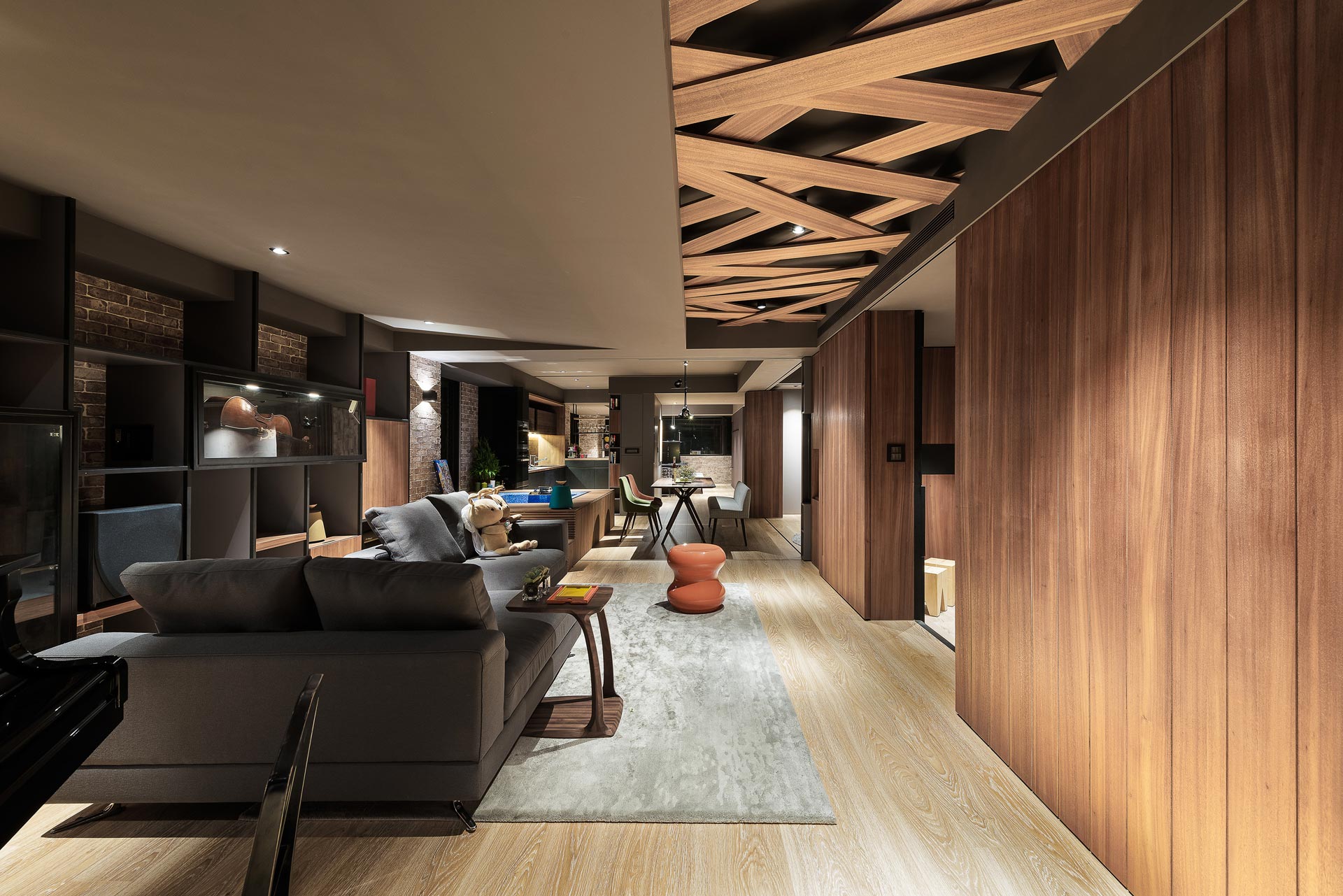 鏈結-多樣的空間可能性

Linking- a variety of possibility for space
整體室內由可滑動的木質滑門門片貫穿其中,時而為牆,時而做門的形態,弱化了空間與空間彼此的虛實對應。位處室內中心位置的飯廳,則成為連結各個不同場域的中介區塊,藉由木質滑門與可移動、旋轉的電視牆,充分展現出空間隨使用模式調整的機動與多變性,建構出開放中亦保有私密感的場域。空間後半部為工作區與主臥房,沿續公共場域以木質鋪面結合灰黑色調的質感,呈現統一的暖色調性。整體空間在簡約語彙中,以最單純的手法,將複合而多樣的空間,恰如其分地融合於一體。
The whole interior is slid through the slidable wooden panels, sometimes to be walls, sometimes to be doors, by weaken the corresponding of each space and its virtual and actual situation. Dining room located in the center of the room, is the intermediary block linking to different areas by using the wooden panels and movable TV wall, fully demonstrated the space with the use of modular adjustment of mobility and variability, creating an open but private area. The second half of space is for the working area and master bedroom, continues using wood pavement combined gray-black texture from the public area, showing a uniform warm tone. In simple words, the space as a whole, in the most simple way, complex and varied spaces properly integrate in one.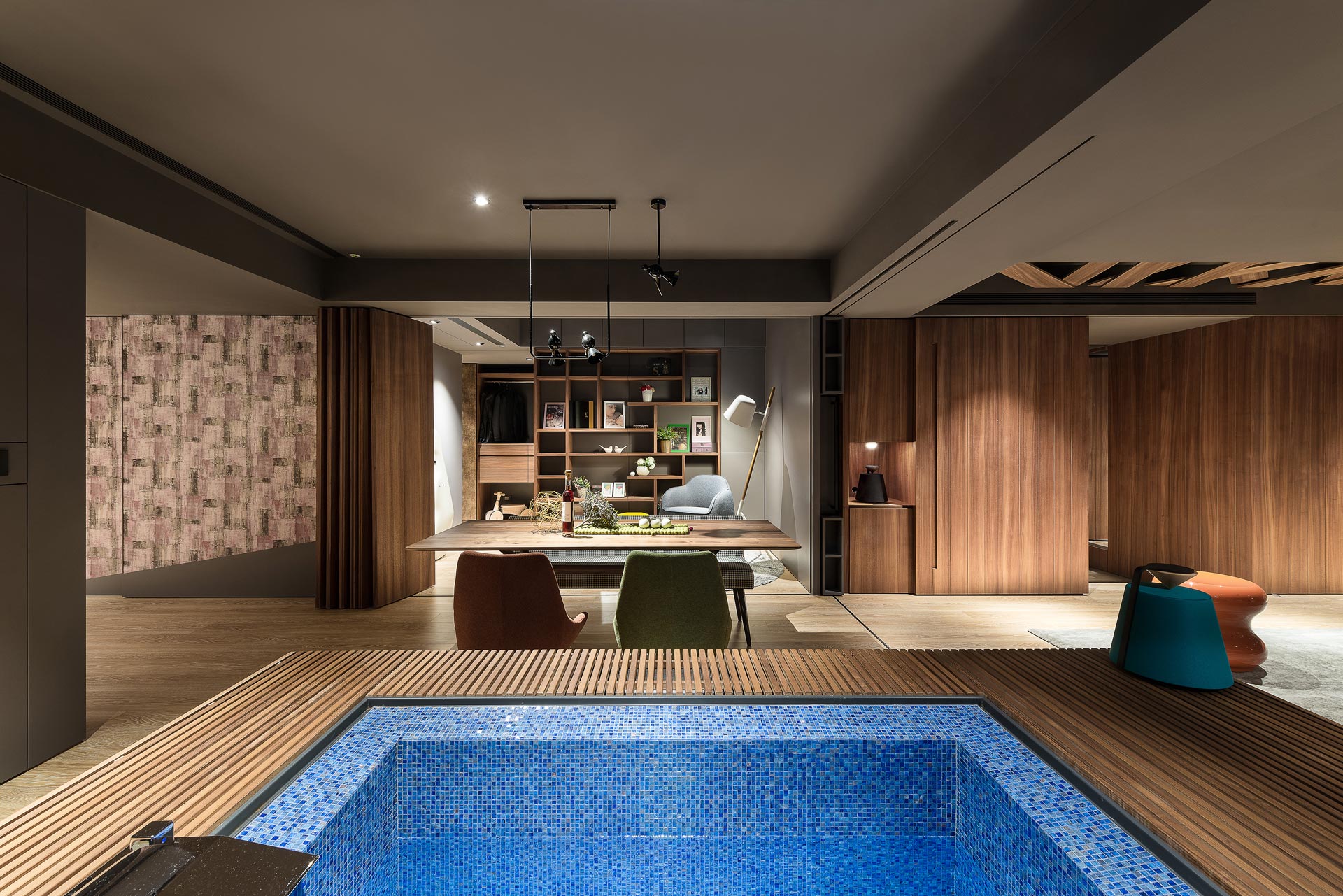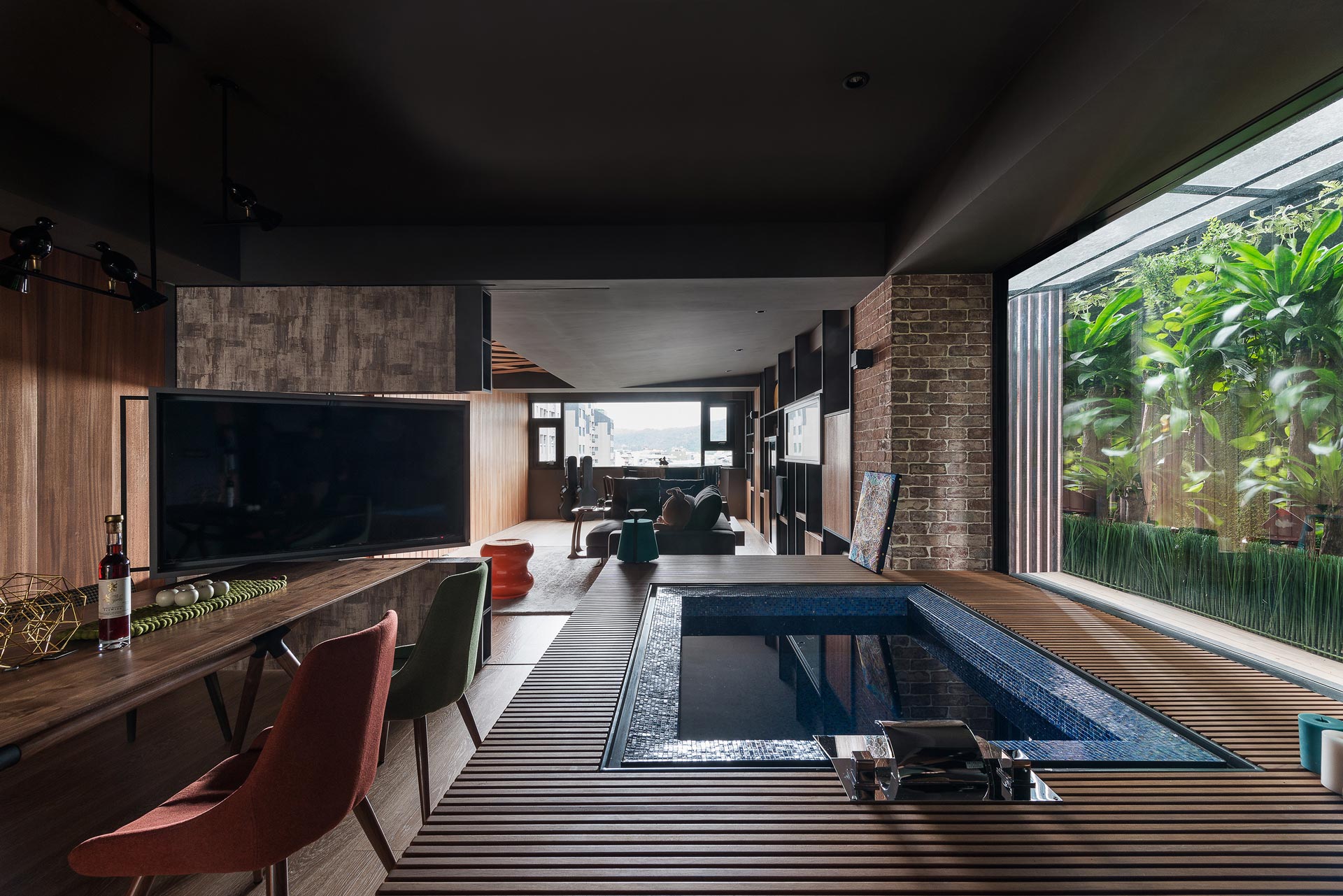 暖調-潤澤生活的細緻工藝性

Warm tone- Moist life of the fine craftsmanship
整體空間以木質材料的自然觸感,溫潤的視覺氛圍營造為主調。甫踏入大門,由梧桐木皮牆面、木地板與灰黑色系金屬鐵件混搭而成的玄關,以四十五度轉折的迂迴,創造出一道低調而誠摯的邀請。由客、餐廳、景觀浴池與原木組建的廚房建構的主要公共場域內,以全然開放的形式,呈現寬廣而舒適的居家生活尺度,偌大的室內空間中,臨路的短向一側,以水平長窗將充盈光線引介入室內,灰色調天花板、文化石磚牆凹凸有致的紋理,與木質牆面構築出富質感肌理的客廳起居氛圍。另一側則大膽地置入開放式的方形景觀浴池,輔以四周木格柵環繞的包覆式設計,正對落地窗外植栽扶疏的室內陽台,以陽光綠意,在相對有限室內空間中,創造如同渡假休閒般的閒適感受。
Overall space uses the natural feel of wood materials, soft and visual atmosphere as the main tone. Just entering the main door, by the mixture of Indus veneer wall, wood flooring and gray-black metal parts of the foyer to forty-five degrees turning roundabout creates a low profile and sincere invitation. Main public areas, forming by living, dining, landscape bath, and the kitchen constructed by crude wood, in a completely open form, shows a broad and comfortable home life scale. In the huge interior space, along the short side of the road, long horizontal windows introduce light into the room. Grey tone of the ceiling, bumps texture of the cultured stone wall and wooden wall construct rich texture of living atmosphere. The other side of space is boldly placed in an open-style square shape of landscape bath, complemented a covered design of wrapping around the wooden grilles, facing to a sparse planting indoor balcony outside the ceiling window, with sunshine and green, creating a leisurely holiday experience in a relatively limited interior space.